We are very proud to have recently launched a new promotional website for Rekorderlig.
In this latest campaign for Rekorderlig, consumers vote for their favourite flavour of the cider to be in with a chance to with a gift card. Open to Sainsbury's and Tesco shoppers Rekorderlig gained valuable data about popular flavours such as Watermelon-Citrus, Strawberry-Lime, Mango Raspberry, and Wild Berries. Lucky winners are instantly emailed a £50 e-Gift card, redeemable at either Tesco or Sainsbury's.
Grand Central designed and built the promotion microsite, win mechanic functionality and automated prize fulfilment. The site was easily accessed by scanning a point-of-sale QR code in participating Tesco and Sainsbury's stores. Votes were submitted using an intuitive entry form using vibrant illustrations and pack shots for vote choice. Consumers also submitted a short paragraph about why they like the flavour they are voting for. An invaluable insight for the brand.
Following submission overall vote results were displayed in a beautifully animated doughnut chart with segments designed to match each Rekorderlig flavour.
Prizes were allocated via guaranteed winning moments seeded to randomly allocate 45 e-Gift cards.
www.winwithrekorderlig.co.uk/enter
This promotion has been developed in collaboration with VCG, the fixed-fee risk specialists.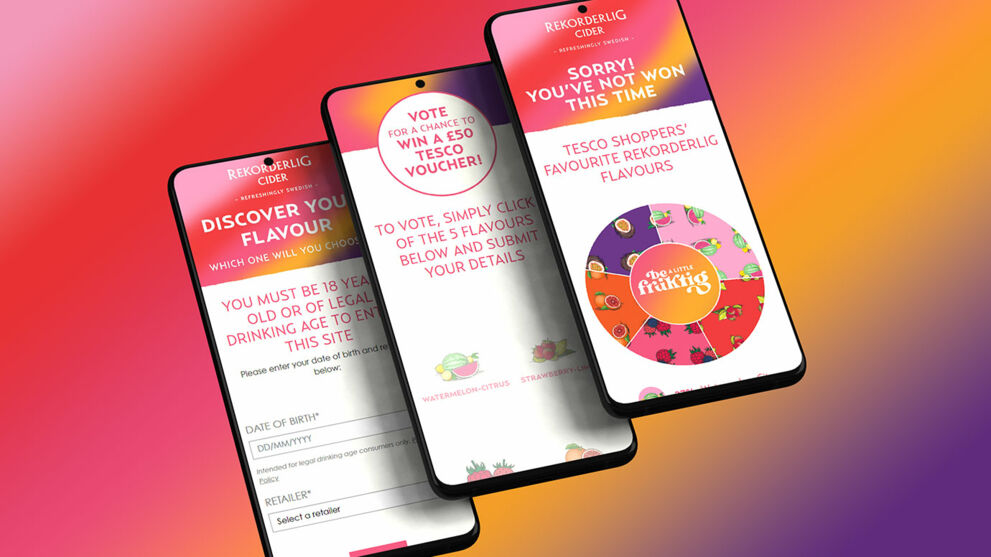 Grand Central develops promotional, reward and corporate websites as part of integrated campaigns for some of the biggest brands and organisations. For help with planning, designing and building your digital requirements please contact us at

hello@grandc.co.uk / 020 8546 0150